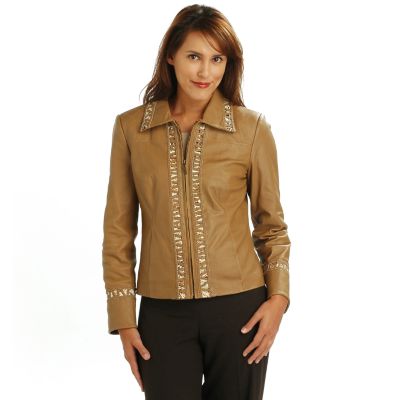 Pamela McCoy Quilt & Trim Detail Leather Jacket

Braiding, animal print, and quilting update a classic silhouette. This warm toffee-colored jacket features upscale Pamela McCoy embellishments for a stylish look that's not too flashy. The sophisticated design starts with fine quilting at the cuffs and the front and back of the shoulders. Decorating the shirt collar, cuffs, and front placket is a leather cutout design trimmed with braided leather. Peeking out from the leather cutouts is an ivory/brown leopard print fabric. Adding just a touch of wild style, while maintaining the sophistication, this jacket is made for day-to-night elegance. Finished with slimming front and back princess seams for an hourglass silhouette. Imported.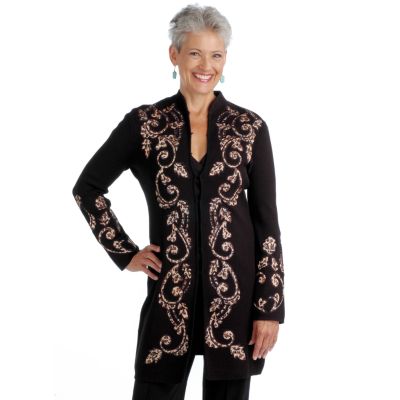 Pamela McCoy Animal-Print Applique Knit Duster Jacket

Add a touch of sophisticated drama to any outfit. With its elongated lines and curve-skimming fit the duster is a figure-flattering piece that solves any wardrobe dilemmas, while front and back princess seams ensure a feminine fit. As comfortable as your favorite sweater, but as sophisticated as a tailored jacket – you'll glide through your day with ease when wearing this. The jacket is created from a lightweight fabric blend that stretches with you as you move and resists wrinkles, for a polished look throughout the busiest days. Imported.

Featuring swirling applique decorating the neckline, front placket, and cuffs. The applique is created in leopard print for a bit of wild style that's not too over-the-top. Finished with a modern funnel neck.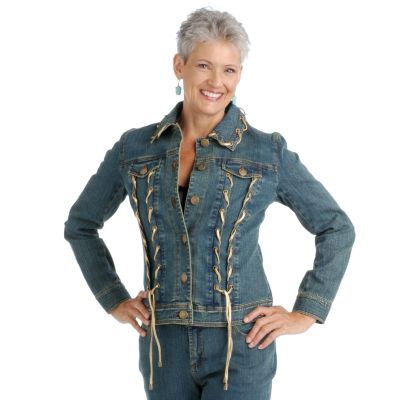 Pamela McCoy Lacing Detail Denim Jacket

Cinch up relaxed sophistication with this reinvention of the classic denim jacket. Golden leather lacing adds an upscale feminine element to the jacket, expanding your wardrobe options. Top off khakis for a casual-office outfit, or wear on the weekends for a stylish alternative to a sweatshirt. Imported.

Designed in a classic washed denim, leather lacing decorates the shirt collar, front placket, and back seams. Adding a decorative element, the lacing also accentuates the feminine tailoring, creating an hourglass silhouette.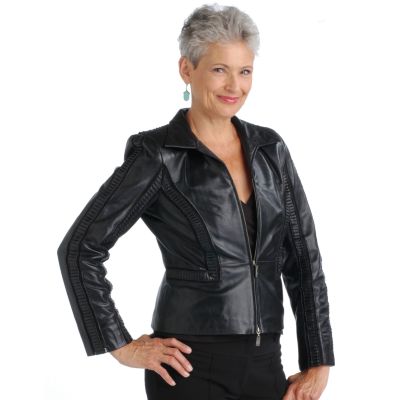 Pamela McCoy Inset Detail Zip Front Lamb Leather Jacket

Unexpected embellishments in a fine lamb leather jacket. The classic jacket features insets created with pleated leather framed by fabric mesh, maintaining versatility while adding a touch of fashion flair. Update your basic jacket to this upscale option. Imported.

Insets decorate the hourglass-shaping princess seams, enhancing the flattering fit. Matching insets decorate the sleeves. Adding a comfortable breathability to the jacket, you can customize the look by wearing a bright shirt underneath, which will peek through the mesh trim. Finished with a classic shirt collar.