If you're physically active during your leisure time, the payoff is huge. Researchers from King's College London have concluded that people who regularly exercise are biologically younger than those of the same age who are sedentary.
Regular exercisers have lower rates of cardiovascular disease, type 2 diabetes, cancer, high blood pressure, obesity and osteoporosis. Now it appears that a sedentary lifestyle not only increases the likelihood of developing an age-related disease, but also influences the aging process itself.
The study: Led by Lynn F. Cherkas, the team studied 2,401 white twins, administering questionnaires on physical activity level, smoking habits and socioeconomic status. The participants also provided a blood sample from which DNA was extracted. The researchers examined the length of telomeres--repeated sequences at the end of chromosomes--in the twins' white blood cells (leukocytes). Leukocyte telomeres progressively shorten over time and may serve as a marker of biological age. Telomere length decreases as we age; on average we lose 21 nucleotides (or structural units) a year. The longer the telomere, the younger the cell.
The results: The British team found that men and women who are sedentary have far shorter leukocyte telomeres than those who were more active, even after they adjusted for such factors as smoking, body mass index, socioeconomic status and physical activity at work. Specifically, those who exercised the most (more than three hours a week) had telomeres that were, on average, 200 nucleotides longer than those who exercised the least (16 minutes a week).
Translation: The twin who exercised was biologically 10 years younger than the twin who was sedentary! Yes, a treadmill work-out may very well be the fountain of youth.
So why does a sedentary lifestyle age us? It is thought the telomeres are shortened by oxidative stress, which is damage caused to cells by exposure to oxygen, as well as inflammation and stress. But regular physical activity seems to reduce psychological stress, which mitigates its effect on telomeres and the aging process.
The study findings were published in the Archives of Internal Medicine, one of the JAMA/Archives journals.
--From the Editors at Netscape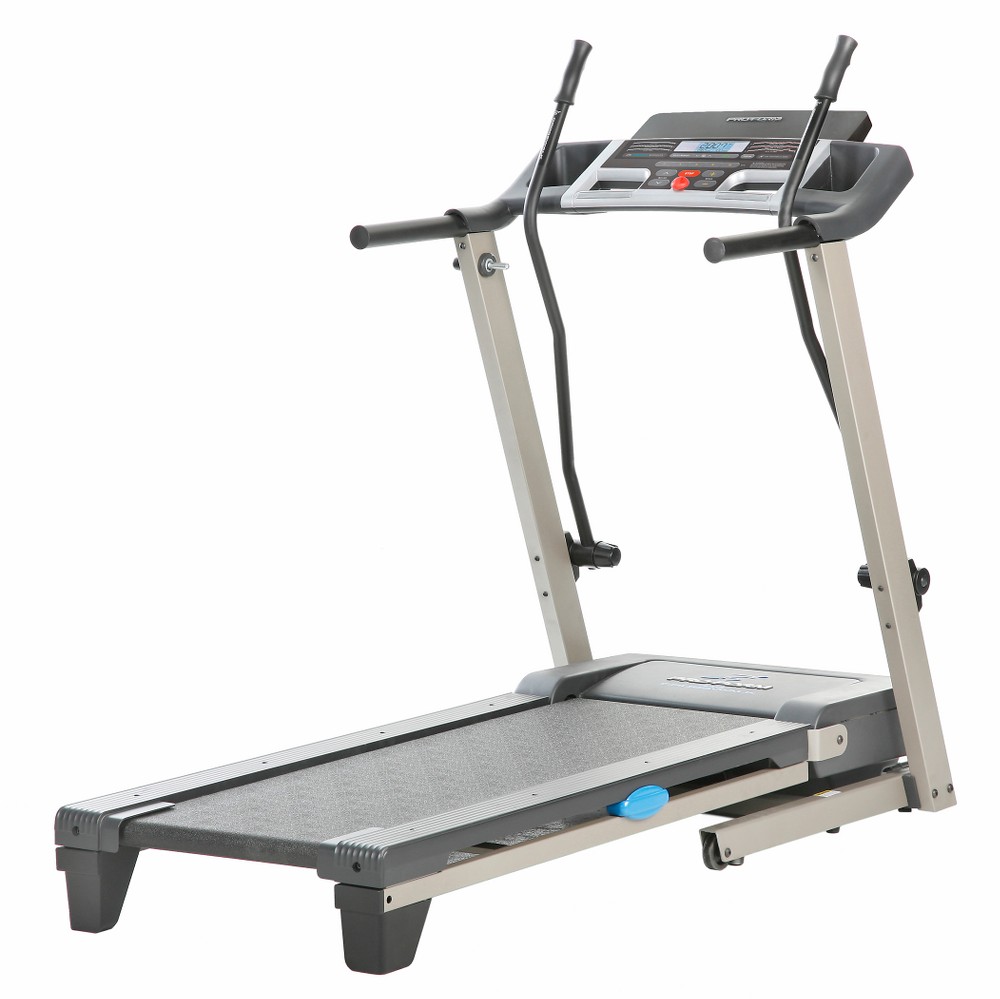 Hot Buy: Proform Crosswalk 415 Treadmill on sale for $399.88. Save $100 from 6/15-6/21!
Only at Sears!
Discover your workouts total potential with the CrossWalk® 415 treadmill. The 415 offers 3 Interactive CrossWalk® workouts, each designed by a Certified Personal Trainer to burn calories and strengthen muscle. These fantastic workouts also prompt you when to use the CrossWalk® arms throughout your workout. This treadmill also offers 2 customizable ifit® workouts, which allow you to alter your workouts length so they fit your schedule, instead of the other way around. The 415 also comes with a 1.5 CHP drive motor, ProSoft™ cushioning, 0 to10 MPH QuickSpeed™ control and a 5-year motor warranty.
* CrossWalk® Upper-Body Arms - Improve your total-body conditioning and increase calorie burn by combining this patented, upper-body exercise with a traditional cardio workout.
* 3 Interactive CrossWalk® Workouts - Tone your upper body and burn more calories with 3 interactive CrossWalk® workouts that prompt you to use the CrossWalk® arms during your workout.
* 3 Customizable ifit® Workouts - Get personalized results with 3 built-in workouts, each featuring ifit® training technology and customizable workout settings.
* Mach ™1.5 CHP Drive Motor - Get smooth, consistent operation every time from this powerful motor. Engineered to maintain its strength for long-term use, this motor is perfect for light or intense workouts.
* ProSoft™ Cushioning - Reduce impact on your joints by up to 15% as compared to road running with this superior absorption system, delivering the perfect balance of comfort and joint protection.
* 18" x 50" Quiet Treadbelt - This heavy-duty, treadmill belt is designed to operate more quietly and more smoothly than a normal treadbelt.
* 250 LB. Weight Capacity - Get all the support you need with this 250 lb. capacity deck.
* 5-Year Motor Warranty - Buy with confidence! This treadmill features a 5-year motor warranty and 90 days on parts and in-home labor.
* Blue-Tinted LCD Display - This attractive, tinted LCD display tracks your speed, time, distance, pulse and calories burned, while allowing you to choose which reading appears in the main display.
* 0 - 10 MPH QuickSpeed™ ControlInstantly change the speed of the treadmill between 0 - 10 MPH with the single touch of a button.
* 0% to 10% Power Incline - ®Conveniently change the incline of the treadmill at the press of a button.
* Dual-Grip EKG™ Heart Rate Monitor - Get an accurate pulse reading with the convenient sensors built into the handlebars.